It was a pretty low key weekend around The Algor's, but every weekend has been lately. We did get out Saturday for a
short
bit to attend a company BBQ. I sat on a nice padded bench under a tree the entire time. I loved getting out! There were two other sets of twin parents there and one set of parents to be! Wow. Four sets of twins/ soon to arrive twins all in the same backyard. I'm telling you having twins is trendy. Haha. Our friends Candice and Jeff have the most beautiful 3 year old twin girls (and a handsome 4 month old little brother). They were born at 35 weeks and only stayed in the NICU for 14 days! It was so great to catch up and get any last minute advice from them! Last night, we rented "Limitless". It was actually really good, so if you're looking for a movie at Blockbuster, rent that one.
This morning I was pretty sore, but it passed not long after I had been awake. Justin grilled burgers and a few friends came over for a going away party. Our friend Paul is moving back to Denver to start med school! We are so sad to see him go, but so proud of him! He's definitely going to have to make a trip back to meet the boys. Our other friend, Justin, called (Paul's old roomie) as he was headed into work.... he's on short term assignment in Singapore. The past few weeks he was in Tokyo! How cool! I would definitely tell hubby we needed to do that if we weren't expecting;) however, this is way cooler! Haha. We can't wait for Justin to get back in October!
Currently, I'm lounging around on the sofa, hubs is downstairs on the computer ( probably googling useless info, which if you know him you would understand) and King... Well I'll let the picture speak for itself. Hope y'all had a great weekend!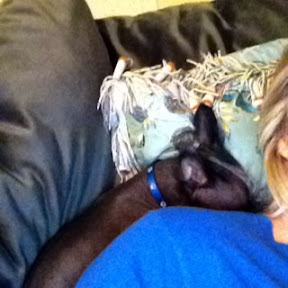 He is always like this. Poor guy, I don't know what he'll do when he isn't the center of attention.
PS: the maids (there were 3) came Friday and oh my gosh it's like a new house! I need them back often! If anyone is attending a baby shower and wants to give a unique gift, get the mother to be a maid service for post pregnancy (or before, too)!
xoxo